Regular price
$3,999.00
Sale price
$2,999.00
Unit price
per
Sale
Sold out
$50 OFF MCSP50 Code for 1 scooter
$150 OFF MCSP150 Code for additional one
Free Shipping
15 Day Return Period
1 Year Warrant
View full details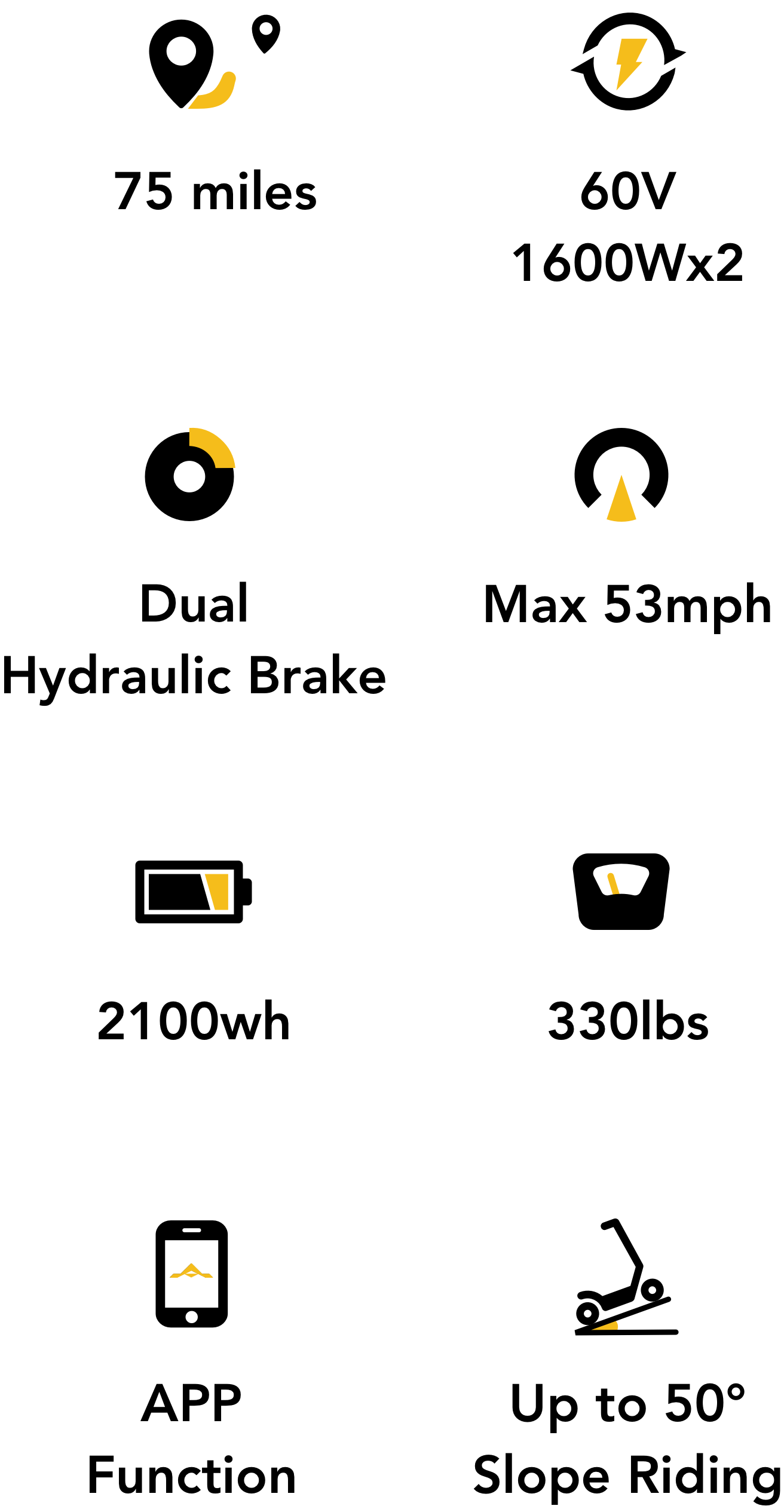 MEET ARVALA M11 ELECTRIC SCOOTER
INCREDIBLE LG LITHIUM BATTERY
HYDRAULIC DAMPER STEERING ASSIS
INDEPENDENT CONTROLLERS COMPARTMENT
SOPHISTICATED HANDLE DESIGN WITH BUILT-IN DISPLAY, INCLUDE NFC KEY
SUPERIOR ARVALA SCOOTER APP
The ARVALA app can address your aftermarket concerns, saving you time and money. With remote access to critical information such as battery life, motor status, voltage, and temperature, you can keep your e-scooter running optimally. Eliminate testing and troubleshooting costs with the app's internal communications protocol.
NUTT HYDRAULIC E-BRAKES WITH COOLING PADS
Product Specs
ARVALA M11 60V35Ah
Happy Ride
I'm absolutely love this scooter. This is my second ride. I clocked over 2000 miles on my M10, but the upgrade version is a whole new level, especially with that upgraded dual shock suspension. Say hello to my new daily commuter! It's got faster speed than the M10, and those new smart app is just icing on the cake.
Fantastic city scooter!
This scooter delivers the perfect blend of speed, range, comfort, portability, and affordability. I've put this baby to the test, clocking over 75 miles, and it's been a real trooper. Whether I'm zipping through NYC's parks, Brooklyn, or Manhattan, this scooter has become my trusty sidekick for ditching public transit during these pandemic times.
The suspension does a great job cushioning bumps and potholes while supporting my weight (around 230lbs). It's a smooth ride, but, as a rule, steer clear of potholes! With its 3-speed settings, I keep it on "cruise" (speed 1) in pedestrian-packed zones like Prospect Park, and crank it up to "zoom" (speeds 2 and 3) when I hit the road or bike lanes.
Max speed of 50mph is a game-changer. Although my usual pace is around 20 mph, that extra burst of speed comes in handy for maneuvering past fellow cyclists and handling various road situations.
Pro tip: Never max out your scooter's speed.
The 75-mile range (real-world use is closer to 70 miles) has always covered my needs; I've never used the entire range in one day. 
All in all, a fantastic buy.
Well made, a little heavy
Haven't had a chance to take it for a spin outdoors yet because of all the rain, but I gotta say, the build quality is so great. Fingers crossed this scooter lives up to the hype!
Great Value
So, I was on the hunt for something in a good price range but with more to offer. After diving deep into research, all roads led me to this scooter. It's almost in the same ballpark price-wise as the Wolf Warrior 11, but it packs a punch with a ton more features!
Now, I'm no spring chicken, and let me tell you, the suspension on this thing has been a blessing for my joints. Plus, I'm on the taller and huskier side, and this scooter is a real big dawg's dream! I'm repping this ride in Hamburg, and I'm pretty sure I'm the only one around with this cool scooter, which makes me feel kinda special.
And don't even get me started on their customer service – top-notch. If you're looking for your very first grown-up electric scooter, I'd wholeheartedly recommend this bad boy.